Description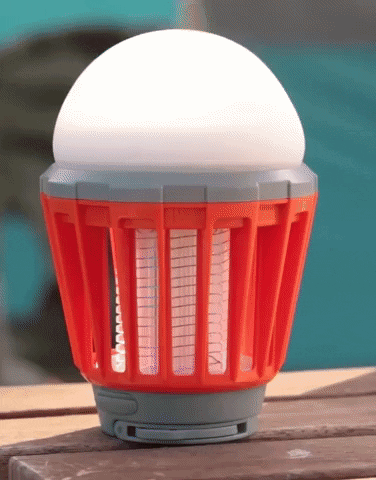 The 2 in 1 Camping Lantern is a portable flying insect zapper that you can take anywhere. It's Camping Lantern Bulb makes it easy to protect yourself and your family from disease-spreading flies, gnats, fleas, ticks, wasps, and hornets without using chemical sprays or stinky candles. Bug Bulb likes having an industrial-strength bug zapper that you can take with you anywhere you go.

The Portable Waterproof Bulb Hang the outdoor bug zapper patio waterproof from the peak of your tent like an overhead light, using the built-in hook, or place it on a flat surface like a table light. This Bug Bulb Zapper Outdoor cordless is compact and portable.
Unlike bug sprays and smoky coils, our Bug Zapper Light Bulb is non-toxic, energy-efficient, and silent. Its 2-in-1 Outdoor Lantern comes with a durable shatter-resistant ABS cover and a built-in smart chip that prevents it from overheating.

‍This 2 in 1 Bug Bulb only 7 inches tall, 3 inches wide, and uses a powerful rechargeable battery that lasts for up to 20 hours. Plus, the Electric Bug Bulb has a built-in LED Tent Light  Bulb that can be used as a flashlight, lantern, reading light, or night-light.
Infest your food or land in your drinks

Sneak inside your place & disturb your sleep

Get trapped in your hair and bite exposed skin
Anyone who enjoys spending time outdoors needs to get the Bug Bulb!
Help protect your family and eliminate flying insects before they bite anyone and potentially spread their nasty diseases- all without the hassles and risks of chemical sprays or candles. 

Just look at all the places you need to have the Bug Bulb:

‍
Get the easiest bug defense system available that is cost-effective, easy to set up, and causes no harm to children, pets, or seniors.

Payment & Security
Payment methods
Your payment information is processed securely. We do not store credit card details nor have access to your credit card information.
---
Security