Description
This Brookstone color-changing mood lamp naturally handcrafted for a unique look, your home that added. This Himalayan salt lamp benefits from a soft glow to a brighter lamp. It is a Brookstone color-changing Himalayan salt lamp Ideal for use anywhere in the home from the study, kitchen, bedroom, or hallway. It Can be used as a nightlight or for mood lighting. This Himalayan salt lamp Walmart real or fake white wade uses only the purest Himalayan rock crystals, lab tested for authentic and best quality salt light, high in minerals for added health benefits.

This Color changing salt lamp target is Made from natural Himalayan salt crystals that have calming and soothing properties. Himalayan salt lamp color meaning anecdotal studies show users find Himalayan salt lamps relaxing, calming, soothing, and relief from stress. It Can be an aid in sleeping, against insomnia and seasonal disorders linked to light.
Features:
Multifunctional design: Himalayan Salt lamp and air purifier 
Himalayan Salt Benefits: Himalayan Salts are known to purify the air, boost energy levels, reduce environmental allergies, promote relaxation and more
Color changing lamp: Has 7 different colors: warm white, red, pink, purple, green, blue, orange
Different lighting modes: adjustable brightness, fixed light colors, color-changing gradient options
Convenient design, easy to use: Just plug the lamp purifier into any USB source and turn it on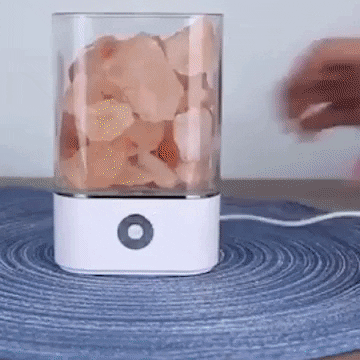 Instructions: 
Tap the power button 1x to turn on the warm light

Hold down the power button to adjust the light brightness

Double-tap the power button to turn on the color-changing gradient light

Tap the power button 3x to get a constant fixed light color

Tap the power button 4x to power off the lamp
Specifications: 
Power Supply: USB
Size: 3.7in x 3.7in x 5.55in
Power Cable Length: 47 inches
Voltage: DC 5V
Rated Power: 3W
Working Current: 100=600mA
Material: Himalayan Salt Crystals, ABS, PC, Electronic Components
Package Includes:
1 x Himalayan Salt Lamp Air Purifier
1 x USB Cable
1 x User Manual
Payment & Security
Payment methods
Your payment information is processed securely. We do not store credit card details nor have access to your credit card information.
---
Security